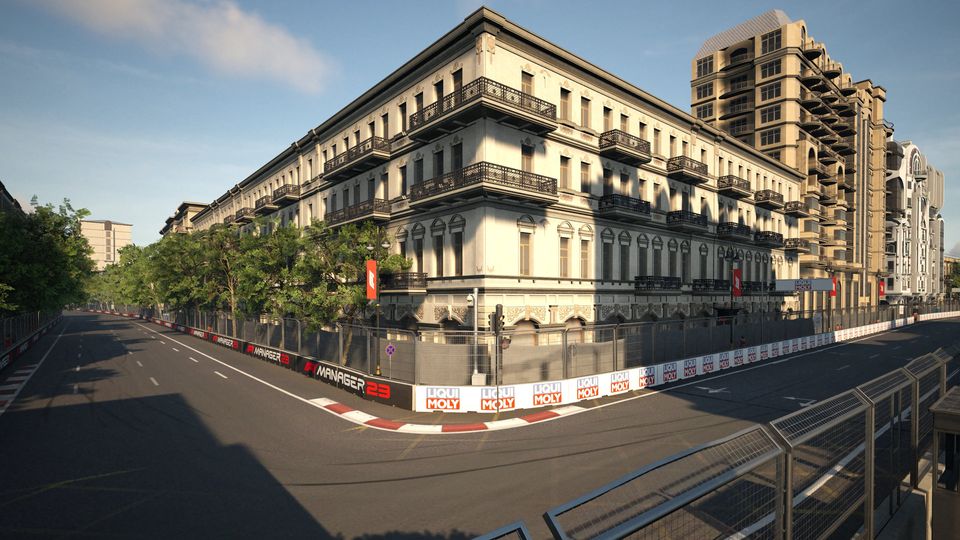 Azerbaijan Grand Prix
Baku City Circuit
Summary
As one of the newest street circuits in F1®, Baku might not have the pedigree of some of the other circuits, but it more than makes up for that with a varied layout offering a unique set of challenges. There's no room for mistakes at Baku and it's essential that Team Principals equip their drivers with the right setup and strategy for success.
Suggested Setup
Suggested car setup for the Baku City Circuit:
Top speed, DRS, and low speed cornering are crucial
Long straights to overtake
Power circuit
Tips & Tricks
With its long, speed-gathering straights and almost right-angle tight turns, the safety car will likely appear at the Azerbaijan Grand Prix.
Cars with a high top-speed and good low-speed cornering have a clear advantage at Baku. It's not a circuit that favours generalist vehicle setups.
With Baku's long straights, there are many opportunities for a DRS-powered overtake. Aggressive drivers will be able to climb the grid.
You will likely only stop once, so opening on softs can help you rise up the grid to create a lead that you can maintain with medium tyres.
2023 Race Replay
A safety car on lap 11 has given Aston Martin a strategic dilemma. Should Alonso pit under the safety car while he has the chance, even with so many laps left? Or should he stay out and hope for another opportunity to get onto that podium?
Circuit Details
Circuit Type

power

Circuit Abrasiveness

low

Circuit Length

6.003KM

First Grand Prix

2016

Number Of Laps

51

Race Distance

306.049KM

Lap Record

1:43.009
Charles Leclerc


(2019)

Safety Car Chance

100%

Pit Lane Time Loss

22 Seconds