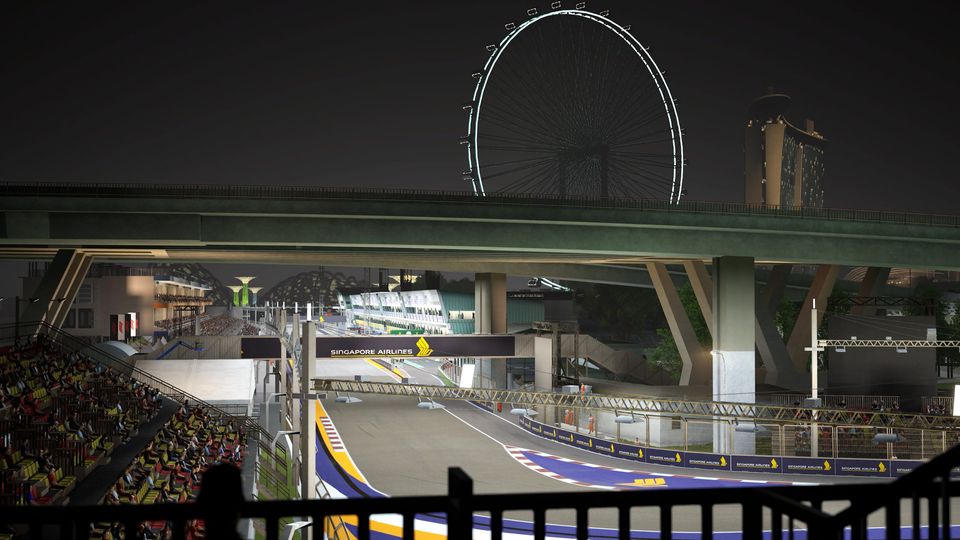 Singapore Grand Prix
Marina Bay Street Circuit
Summary
Hurtling through the stunning backdrop of the Singapore skyline, the Marina Bay Street Circuit is a beautiful but punishing track. Intense corners, a narrow layout and demanding conditions will push drivers to their extremes, so Team Principals must make sure to equip them with the tools for victory.
Suggested Setup
Suggested car setup for the Marina Bay Street Circuit:
Low and medium speed cornering are crucial
Focusing on acceleration is also recommended
Downforce circuit
Tips & Tricks
Singapore's unpredictable weather and long pit stop time make planning a pit stop strategy challenging, but the circuit's tricky turns provide a solution.
You will almost certainly see a virtual safety car or safety car come out during the Singapore Grand Prix; use that as your window to pit stop.
With a pit time of 29 seconds, you don't want to make additional tyre changes. If rain is forecast, start on mediums and hold your shift until the circuit is damp.
Most cars will be pitting twice; if you can keep to one pit stop, you are gaining nearly 30 seconds on the competition.
2023 Race Replay
With the Red Bulls on the back foot in Singapore, Mercedes sense a rare chance for glory. Mid way through the race, they find themselves in 2nd and 4th. Now, they must decide when to push, while navigating a treacherous track that could easily lead to another safety car or a DNF. Can you make the right calls to achieve a momentous result for Mercedes?
Circuit Details
Circuit Type

downforce

Circuit Abrasiveness

medium

Circuit Length

4.928KM

First Grand Prix

2008

Number Of Laps

63

Race Distance

310.327KM

Safety Car Chance

100%

Pit Lane Time Loss

29 Seconds