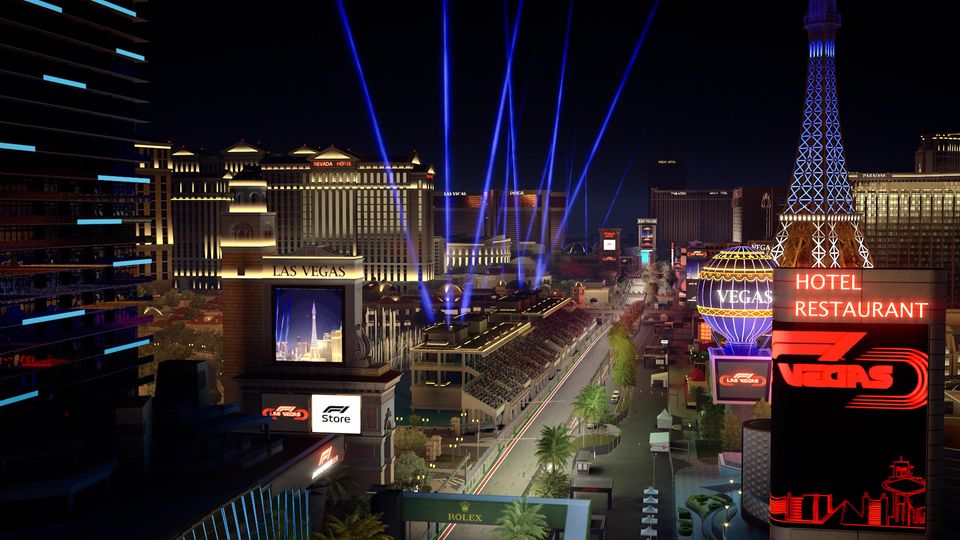 Las Vegas Grand Prix
Las Vegas Strip Street Circuit
Summary
The upstart newcomer, Las Vegas makes its debut as an F1® circuit in the 2023 season, but don't let its youth fool you – the circuit will not be a breeze. With flat-out straights and hairpin corners, all set against the dazzling lights of the Strip as a backdrop, Las Vegas is sure to reward Team Principals who are willing to gamble on victory.
Suggested Setup
Suggested car setup for the Las Vegas Strip Circuit:
Top speed and low speed cornering are crucial
Focusing on low speed dirty air cornering is also recommended
Balanced circuit
Tips & Tricks
With such a long pit stop time, most strategies for the new Las Vegas Grand Prix favour a single pit stop.
With opportunities to reach top speed but also several low-speed corners, power and downforce-specialised cars may lose out to all-rounders.
The pit stop time is 29 seconds, so only opt for a two-pit strategy if you plan to be very aggressive to make up the time.
There's no chance of rain in Las Vegas, so don't expect many surprises on the circuit. Pick your strategy and stick to it.
2023 Race Replay
On the spectacular streets of Las Vegas, it's time for Ferrari to play their hand. After a series of incidents, a safety car has been deployed, giving their rivals an advantage. Leclerc is racing for the lead, while Sainz continues to fight through the pack after an early spin. Can they go all in on a strategy that will call Red Bull's bluff and deliver a dazzling result for the Scuderia?
Circuit Details
Circuit Type

balanced

Circuit Abrasiveness

medium

Circuit Length

6.12KM

First Grand Prix

2023

Number Of Laps

50

Race Distance

306KM

Safety Car Chance

0%

Pit Lane Time Loss

29 Seconds