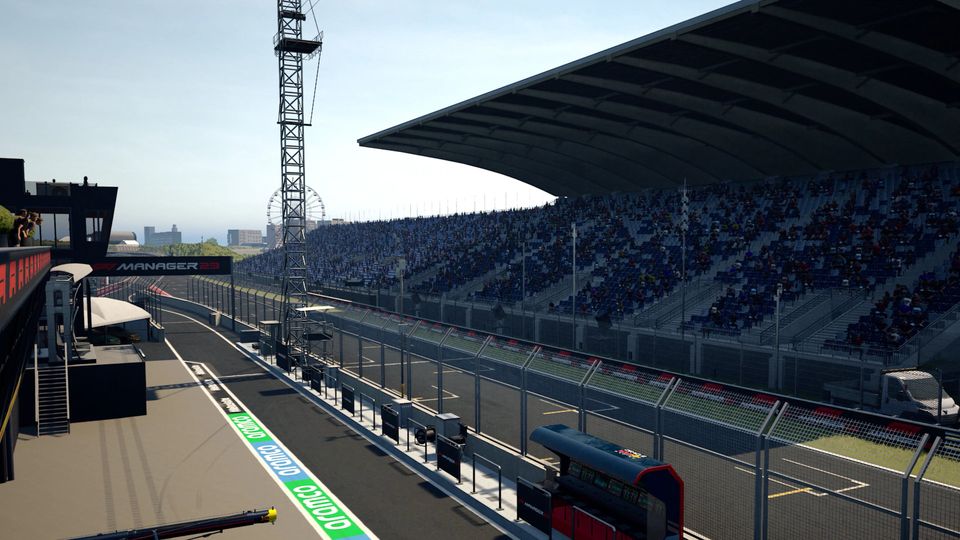 Dutch Grand Prix
Circuit Zandvoort
Summary
Intense, quick, and packed with fast corners, Zandvoort is a challenging circuit for even the most skilled drivers. Looping through the dunes of the Dutch coastline, the abrasive track can push cars to their limit, making the right strategy – and the right Team Principal – critical.
Suggested Setup
Suggested car setup for Zandvoort:
Medium and high-speed cornering are crucial
Focusing on acceleration and DRS is also recommended
Downforce circuit
Tips & Tricks
The rough surface of the Dutch Grand Prix is hard on tyres, so you have to be careful about when to push.
Zandvoort's high circuit abrasiveness rewards aggressive drivers with an extra pit stop, so be careful about telling your drivers to push.
With a punishing 28-second pit stop time, a team who can drive conservatively and manage to stop just once in the race may win over aggressive drivers.
Whatever your strategy, keep an eye on the forecast and see if you can hold out your pit stop until it's started to rain.
2023 Race Replay
After a rainy start in Zandvoort, and a flurry of early tyre changes, Mercedes are in recovery mode. In the latter stages of the race, they're further back than they'd hoped, with Russell struggling on hard tyres and Hamilton on newer softs behind. With rain threatening to return, manage their pit stop decisions, team orders, and overtakes to secure a haul of points for the Silver Arrows.
Circuit Details
Circuit Type

downforce

Circuit Abrasiveness

high

Circuit Length

4.259KM

First Grand Prix

1952

Number Of Laps

72

Race Distance

306.587KM

Lap Record

1:11.097
Lewis Hamilton


(2021)

Safety Car Chance

50%

Pit Lane Time Loss

28 Seconds